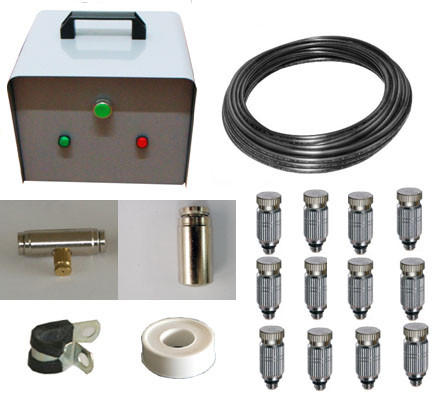 Descripción
Product Content:
Functions:Cooling,humidifying,Environmental Protection,Energy Saving Cooling Area:40-60 square meters Characters:
1. The product uses specific high-pressure atomizing nozzle,orifice 0.15mm, fog particle diameter 5-10 microns, won't wet the environment.
2. Exclusive use of ceramic high-pressure plunger pumps, using the latest patented technology, no need to add oil, no need to maintain regularly.
3. The misting fan could also purify the air,eliminate dust,remove the smell of the air, thus provide you a great working environment.
4. No noise, won't affect the working environment.

The system includes:

Ceramic high-pressure plunger pump:1 pc
High pressure nylon tube 10m,low pressure water inlet tube 3m.
Union(brass with nickel plated):12 pcs
End plug(brass with nickel plated):1 pc
Misting nozzle(brass with nicle plate,orifice 0.15mm):15 pcs (including 3 spare nozzles)
Stainless tubing mounts:15pcs
Specifications:
Voltage/Frequency:220V/50Hz
Power:50W
Flow:0.6L/MIN
Pressure:70 Bar